Montessori program:
Our Montessori curriculum is divided in five main areas:
Practical Life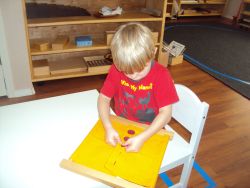 Practical life exercises instill care for self, for others, and for the environment. These activities include some of the daily routines the child has already observed at home: watering the plants, preparing food, taking care of the animals, washing dishes through Practical Life activities, a child will also develop and refine social skills.  These skills developed through Practical Life build self-esteem, determination and independence.
Sensorial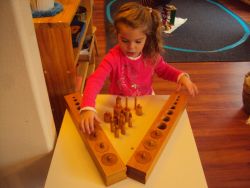 Sensorial materials are designed to develop cognitive skills and allow the child to identify differences as well as specific qualities in similarities and contrast. The child then must think, organize, compare, classify and draw conclusions. These exercises are also the basic foundations for learning math.
Language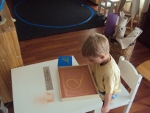 The Montessori classroom is rich in oral language opportunities, allowing the child to experience conversation, music, and stories.
Children effortlessly associate sound to symbol while tracing sandpaper letters with their fingers. This fosters a natural progression of written expression and reading skills. There are several games we play that enhance sound awareness and language development, which makes the process enjoyable.
Our students will learn Spanish the same way they learned English by listening and watching and adult. Our bilingual native Spanish speaker teacher will will only talk in English for  safety reasons.
Mathematics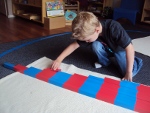 Mathematical activities help children learn and understand the concepts of math by experimenting with concrete materials. This method helps children acquire a solid understanding of basic mathematical principles, and prepares them for future abstract reasoning. In the classroom we use hands-on learning materials that make abstract concepts clear and concrete.
Every operation (addition, subtraction, multiplication and division) is explored in the classroom, gradually, and always at the pace of each child.
Art, Geography, Biology, Botany & Zoology.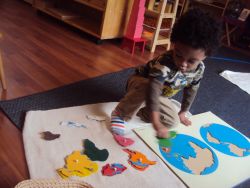 The Montessori curriculum is rich in opportunities to connect the child to his/her world, and make them feel an important part of it.
In this category the children will learn every month a different theme of botany, zoology and geography, like the parts of an ant, the cycle of a frog or the continents of the world.
In Our classroom art and music are always present, giving the children the opportunity to enjoy creative activities, and to unfold their imagination.
Gardening.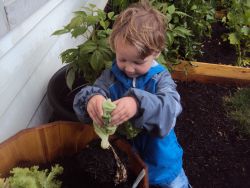 Gardening provides different forms of engagement for children, including designing, planting, and maintaining gardens; harvesting, preparing, and sharing food; working cooperatively in groups; learning about science and nutrition; and creating art and stories inspired by gardens.
Cooking.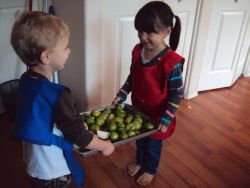 Cooking gives the children to feel like they are part of something bigger than themselves. They feel responsible, because  we are trusting them with an important task. Also cooking is one of the best ways to show kids that reading offers tangible results, math and chemistry at the same time.  It could also has other benefits, like making them more willing to try new foods
Yoga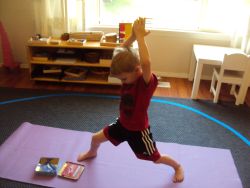 Yoga at an early age encourages self-esteem and body awareness with a physical activity that's noncompetitive. Children derive enormous benefits from yoga. Physically, it enhances their flexibility, strength, coordination, and body awareness, In addition, their concentration and sense of calmness and relaxation improves.
Bamboo Montessori we offer more than a day care, we offer a learning environment to foster your child's creativity, emotional well-being, and intellect.
You see what are we doing at:  www.facebook.com/PreschoolVancouverSpanish/